Soften Your Home's Hard Water With A Water Softener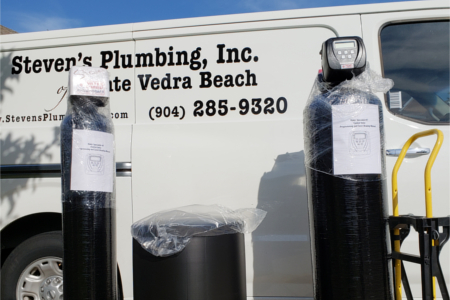 Is your water cloudy, rusty, or loaded with flaky particles? If you've been looking for a local plumber to help you solve the hard problems in your house, Steven's Plumbing is your Ponte Vedra, FL specialist in water softener installation services.
Our plumbers install custom water systems including salt-free water softeners, water softeners for water wells, ion exchange water softeners, and reverse osmosis water softeners. We carry and install premium water treatment systems that work well and provide you with a long-term whole-house solution.
If you are ready to improve the water quality in your house, call to ask about our water softener installation services. We can help you to understand the different water softener solutions available and answer all your questions.
Ion Exchange Water Softeners
Salt-Free Water Softeners
Whole-House Water Softeners
Free Estimates & Consultations
SALT
Our plumbing company installs, maintains, and repairs salt based water softeners in the Ponte Vedra, Atlantic Beach, and Ponte Vedra Beach areas. Our salt based water softeners are custom designed and installed to provide a water softening solution for your entire home. We make sure you have the right sized water system for the square footage of your house.
If you have a water well and are wondering which salt based water softener system is the right choice for your home, give us a call. We can provide you with a free estimate and consultation at a time that's convenient for you. Our plumbers can help you to solve the hard water problems and any other issues you are having with your water quality.
SALT-FREE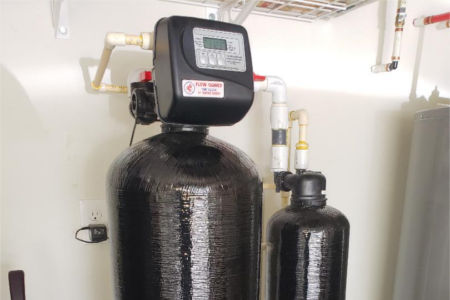 The installation of salt-free water softener systems has been on the rise in neighborhoods all over Ponte Vedra, Nocatee, and Ponte Vedra Beach over the last several years. These salt-free water systems work without chemicals to condition the water inside your home.
Hard water contains a lot of calcium and magnesium. The salt-free water softeners work by reducing these minerals through a process called ionic exchange. The system replaces the minerals that cause hard water with soft minerals that won't adhere to surfaces. Your plumbing system will benefit from the reduced limescale buildup, and you won't have hard water scum all over your home's surfaces.
Recent Articles
---
4 Signs It's Time To Replace Your Ponte Vedra Water Heater
One of the most common questions our Ponte Vedra customers ask is how to know when it's time to replace their water heater. While water heater leaks are an obvious sign that you need to install a new […]
What To Know About Chemical-Free Water Softeners For Your Nocatee Home
Chemical-free water softeners work in different ways to reduce the amount of calcium and magnesium in hard water. Do you have a hard water problem in your Nocatee house? If so, you may see floating p […]