Safe And Clean Drinking Water With Water Filtration Systems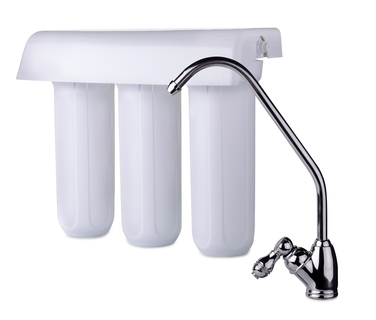 Steven's Plumbing installs premium water filtration systems in the Ponte Vedra, FL area. Our professional plumbers can assist you with the design and installation of a custom-built water filtration system that will greatly improve the water quality in your home.
Our plumbing company provides complete water system solutions in the Ponte Vedra, Atlantic Beach, and Ponte Vedra Beach areas. We install premium appliances that can reduce heavy metals, bacteria, chlorine, algae, arsenic, sulfur, and other contaminants. Our water filtration installation service is handled by our licensed and insured Ponte Vedra plumbers. Contact us today if you would like more information about our water filtration installation service.
High-Performance Carbon Block Filtration System
KDF-55 Fluid Treatment Systems
KDF-85 Fluid Treatment System with Aerator Tank
Reverse Osmosis Filtration Systems
Premium Water Filtration Systems
UNDER-SINK FILTERS
Under-sink filtration systems are for point of use only, meaning they only supply filtered water to the special faucet that's installed on the sink. Many homeowners love to have an under-sink filter in the kitchen because it makes getting fresh drinking water easy.
If you've been thinking about getting a point-of-use water filter for your kitchen sink or another sink, call us. We carry premium under-sink and in-line water filters and provide expert water filtration installation service for local homeowners.
Generally, these systems will need maintenance about once a year. If you have hard water, it's best to perform the maintenance more often. We also offer repairs and maintenance for under-sink filters. Contact us today to tell us what you need.
COUNTERTOP WATER FILTERS
Countertop water filters can be moved from place to place. Since they are located on the counter instead of underneath the sink, the filters are easy to change. These filtration systems offer you the convenience of portability and easy maintenance.
If you aren't sure whether a countertop water filter is right for you, we can go over all the different types of water filtration systems with you. We carry premium countertop water filters and can explain how they all work as well as the pros and cons of each type. If you decide you want a countertop water filter, the water filtration installation will be easy. We'll make sure it's exactly what you need and ready to use.
WHOLE HOUSE WATER FILTERS
Whole-house water filters will provide service to every faucet and appliance in your home. There are several different types of whole-house water filtration systems you can choose. Some will reduce contaminants like heavy metals and arsenic while others only reduce the chlorine content in your water.
The type of whole-house water filtration system you need depends on what type of contaminants are present in your water supply. We offer you all the best options available on the market and can help you to determine which type of whole-house water filter will meet your needs.
Recent Articles
---
4 Signs It's Time To Replace Your Ponte Vedra Water Heater
One of the most common questions our Ponte Vedra customers ask is how to know when it's time to replace their water heater. While water heater leaks are an obvious sign that you need to install a new […]
What To Know About Chemical-Free Water Softeners For Your Nocatee Home
Chemical-free water softeners work in different ways to reduce the amount of calcium and magnesium in hard water. Do you have a hard water problem in your Nocatee house? If so, you may see floating p […]